The home for all your investments
Are your investments scattered at different providers—an IRA here, stocks there?
Consolidating your assets at Vanguard can make it easier to focus. You'll see your entire portfolio at a glance and be able to adjust quickly if you're off track.
And if you're looking for a broad range of investment products—beyond Vanguard mutual funds and ETFs (exchange-traded funds)—your brokerage account is the gateway to any investment you choose.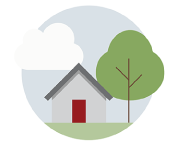 ---
Get more investing options
Your brokerage account allows you to design a portfolio with a broad array of investments.

ETFs
Choose from more than 75 industry-leading Vanguard ETFs®, all of which are offered commission-free.
And enjoy commission-free trading on about 1,800 ETFs from more than 100 other companies when you buy and sell online.*

Mutual funds
Buy and hold more than 140 Vanguard mutual funds. Or select from more than 16,000 mutual funds from other companies—more than 2,500 of them without transaction fees.**

---
Keep more of what's yours
Fund costs and brokerage fees can put a drag on your returns. Vanguard's management costs are among the lowest in the industry,† so more of your returns stay where they belong—in your account.

Low-cost and unbiased
You'll experience low costs every day at Vanguard. Plus, you can rest assured that you'll always receive unbiased assistance because our professionals are salaried and never receive commissions.

Competitive rates
Most investors pay just $7 or less to trade stocks. And as your account grows, you can look forward to decreasing costs.

Best execution
Our trading practices and aligned interests are designed to help get you the best price for your order in a timely fashion.
---
Count on us to help you
Your success is important to us. We want to help you achieve your financial goals as simply as possible.
Take advantage of these convenient tools and services—so you have more time for yourself!

Investment tools
Find, select, and monitor your investments with competitive screening and research tools.

Help when you need it
Get assistance from our expert, unbiased trading specialists who work for you.

Mobile apps
Trade most stocks and mutual funds wherever you are and whenever you want on your mobile device.