A key step to achieving your financial goals is planning. But even when you have a plan, life goes on and change is inevitable. Events happen that not only affect your life, but also your financial situation.
And some of those events can hit with little warning.
I've worked with clients who've experienced a range of life changes, from job layoffs to market downturns to health crises. Some have been hit with large medical bills, while others needed to help a struggling family member. I also have clients who've gone through a divorce or lost their partner or spouse.
Although their challenges and individual situations were different, all of these people had something in common—the unexpected nature of the event they experienced.
This holds true on a broader level as well. In fact, a 2019 survey conducted by the American Association of Retired Persons (AARP) found that unexpected financial challenges cut across all age groups and socioeconomic levels.
In other words, it can happen to anyone at any time.
You're not alone
Nearly half of adults age 30+ experienced an unexpected financial challenge within the past year.*
You're not alone
Nearly half of adults age 30+ experienced an unexpected financial challenge within the past year.*
Multiple challenges
56% of adults who reported having a financial challenge said they'd had more than one.*
Getting started
What should you do when life happens and your plans suddenly need to change?
The answer can vary depending on what your previous financial situation was, how major the life event is, and whether you have a financial plan in place. But here are some initial steps you can take:
1. Figure out what's actually changed—and how much impact it will have
Take time to process the event you've experienced and what its immediate effects are, as well as what the long-lasting ones could be.
If you've experienced a spending shock, such as receiving a large, unexpected bill, the effect will be less than being hit with an income shock, such as losing your job. Similarly, helping a family member by providing a onetime loan will be a smaller change than having to provide ongoing financial support.
2. Discover what resources you have to address the change
If you have a financial plan, you probably know what assets you can draw on. However, if you don't have a plan or haven't reviewed it recently, you may need to figure out where the money is going to come from.
Beyond financial resources, you may also want to think through other types of support you might need. If the situation is affecting you emotionally or psychologically, you may want to reach out to friend to talk about it. Or you might want to join an online support group or find a therapist to help you work through the situation.
There are also local, state, and federal agencies as well as nonprofit groups you can look to for help depending on your particular need.
3. Bring in outside experts, if you need them
Once you've taken inventory of your resources, you may decide you need a professional to assist you in making decisions, putting together a plan, or helping you take action on certain steps of your plan.
What professionals you call in—attorneys, tax experts, accountants, financial advisors—will depend on what your needs are.
For example, if you're getting divorced or have lost a spouse, you may want to speak with someone who can help you get your legal documents in order, rethink your estate plan, or discuss impacts to your Social Security.
Whatever help you need, it's important that you feel empowered to ask for it.
We won't pass judgment on you.
We just want to help you through your crisis and get you back on track.
Asking for help
I've found that people who experience a financial challenge often think they need to figure it all out on their own. They may even feel a sense of shame or failure in admitting to someone else that they're struggling financially.
This was also a key finding of the AARP study. Fewer than 3 in 10 respondents reported asking for advice or discussing the situation with someone who could help. And almost half of respondents said they kept others from knowing how bad things were.
It's human to want to fix things yourself, but it's okay to ask others to help.
Financial advisors are real people who've gone through our own challenges. But many of us are also Certified Financial Planner™ (CFP®) professionals who have experience helping clients like you. We won't pass judgment on you. We just want to help you through your crisis and get you back on track.
Need to cover an unexpected expense or replace lost income?
If you're looking to minimize fees and penalties and are younger than 59½, consider tapping your assets in this order:
Emergency fund.
Taxable (nonretirement) investments.
Roth IRA contributions.
401(k) loan.
IRA or 401(k) hardship withdrawal.
Credit cards.
Seeking a second opinion
Even if you prefer to manage things on your own, it's still good to check in with an expert. They can look over your plan, if you have one, and provide recommendations or even validate the course of action you've laid out.
The actions you need to take can differ depending on the type of challenge you're facing.
With a spending shock, which tends to have more short-term impact, you may need to dip into your emergency fund or even make temporary budget cuts. If you haven't reviewed your budget recently, now is the time to find out what's coming in versus what's going out. Decide what expenses are essential and which ones you can trim.
If your financial challenge is going to have more long-lasting effects, you might need to withdraw from your investment accounts or take a loan from your 401(k). If you're not sure about which assets to tap first, the chart above provides some guidance.
Making these kinds of decisions can be complicated, and some people feel more equipped than others to do so. If you need help, we're here for you.
Whatever you've found your money purpose to be, make sure your plan is aligned to it, so you can put steps in place to achieve it.
Recovering and rebuilding
Once you've taken action to address your financial challenge, it can still take time to recover. Among the AARP survey respondents, 51% expected to recover in 6 months or less, while another 44% expected it to take longer.
Although recovery time will vary depending on your situation, know that you can come back around and start working toward your goals again.
When you've put your crisis behind you, it's time to rebuild. This may mean restarting contributions to your emergency fund or investment accounts. Or you might need to start paying back the loans you took out. If you cut expenses, you may be able to ease up on a few of those restrictions.
And as you start to rebuild, it's good to take note of what you've learned along the way. I've found this type of challenge can often bring to light what's most important to you when it comes to why you're saving and investing.
You may have found that you want to keep helping your family, or perhaps you're more committed than ever to living debt-free. Maybe your interactions with a particular group made you realize that you want to contribute more to worthy causes.
Whatever you've found your money purpose to be, make sure your plan is aligned to it, so you can put steps in place to achieve it. And, of course, you also want your plan to factor in the possibility of future financial challenges.
If you need to revise your financial plan or build a new one, an advisor can help. Together, you can create a flexible plan that will enable you to address changes in your life and financial situation while still staying focused on your goals.
*Source: "Coping with an unexpected financial challenge: An AARP study of adults 30+," AARP, November 2019.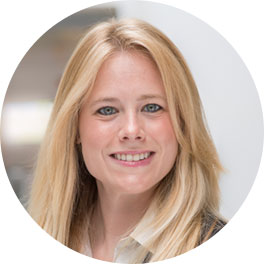 Lauren Wybar
Lauren is a Certified Financial Planner™ (CFP®) professional with Vanguard Personal Advisor Services®. She began her financial services career when she joined Vanguard in 2006, and she's been providing financial planning and advice since 2009. Lauren earned a B.A. in finance from The Pennsylvania State University.
When Lauren's not helping her clients reach their financial goals, she's spending time with her husband and 2 sons. She also enjoys traveling and maintaining a healthy lifestyle that includes barre and yoga.
Ready to discuss your financial challenge?
Working with Vanguard Personal Advisor Services gives you anytime access to advisors who are fiduciaries—always acting in your best interests. You'll also receive a financial plan that's focused on your goals, and helps to withstand market volatility and economic shifts.
Learn about advice
Your goals are our goals.
We're by your side to help you feel confident about your future.
All investing is subject to risk, including the possible loss of the money you invest.
When taking withdrawals from an IRA before age 59½, you may have to pay ordinary income tax plus a 10% federal penalty tax.
We recommend that you consult a tax or financial advisor about your individual situation.
Advice services are provided by Vanguard Advisers, Inc., a registered investment advisor, or by Vanguard National Trust Company, a federally chartered, limited-purpose trust company.
The services provided to clients who elect to receive ongoing advice will vary based upon the amount of assets in a portfolio. Please review the Vanguard Personal Advisor Services Brochure for important details about the service, including its asset-based service levels and fee breakpoints.
Research our investment professionals with FINRA's BrokerCheck.
Certified Financial Planner Board of Standards Inc. owns the certification marks CFP® and Certified Financial Planner™ in the U.S., which it awards to individuals who successfully complete CFP Board's initial and ongoing certification requirements.