Let's face it. Nobody wants to spend time planning for when they're gone.
But what happens if you don't? Without a plan in place, you don't get to choose who gets everything you've worked for your whole life. If you want to be the one making those decisions, then you need an estate plan.
Make sure your assets are distributed the way you want
To begin, determine exactly what your assets are and their value. Take an inventory and share it with your family and others who should know, like attorneys or your financial advisor.
Next, determine which documents you'll need. Many of my clients already have a will, which is simply a set of instructions explaining how your property should be distributed after you die.
And since not all assets are distributed through a will, be sure to review your beneficiary information on insurance policies and retirement plans periodically to make sure everything is up to date.
One often-overlooked estate planning tool is a trust—they're definitely not only for the extremely wealthy. Trusts offer more control and privacy than wills, and they can help to make your estate plan more flexible. Different types of trusts are available to suit a variety of situations.
Different types of trusts are available to suit a variety of situations like:
Blended families
Assets being passed to grandchildren
Children with special needs
Money meant for specific uses
Assets being passed to several inheritors (like homes or businesses)
Already have an estate plan? Now might be a good time to review it.
An estate plan isn't something you can set and forget. Over time, you want to make sure your intentions haven't changed and you've included the right people. Has there been a marriage or divorce? A birth? A change to your financial situation?
If it's been 5 years or more, it's time to make a few updates.
If it's been less than 5 years, it's worth taking the time to check whether changes to tax laws could affect your plan.
If you've experienced a major life event, it's worth revisiting your plan.
You can't control the future, but you can plan for it.
Our advisors are here for you.
Help make sure taxes don't eat into your estate
When tax laws change, I review my client's portfolio to see how it might be affected. During our next consultation, I can then suggest they work with their tax specialist to take advantage of new benefits or protect against additional taxes.
Armed with an effective tax strategy, you can avoid making costly mistakes that could eat into your estate. Your strategy could include:
Planning for

state

estate taxes. In addition to the federal estate tax, a number of U.S. states levy their own estate and inheritance taxes. Twelve states and the District of Columbia have a state estate tax, and 6 states have an inheritance tax. As of 2020, Maryland is the only state that levies both. Washington has the highest maximum estate tax at 20%. While estate taxes are only collected from a small percentage of extremely wealthy families (assets that exceed $11.58 million in 2020), inheritance taxes can be collected from anyone who lives in a state that levies them. See map below for details.
"When tax laws change, I review my client's portfolio to see how it might be affected. During our next consultation, I can then suggest they work with their tax specialist to take advantage of new benefits or protect against additional taxes."
Transferring some or all of your assets. If you know you're going to leave some money to loved ones or important causes, you can maximize what they receive by making gifts during your lifetime. You can:

Give money or property to family members or others. You can make annual gifts of up to $15,000 each (subject to cost-of-living increases) to as many people as you want without paying taxes.
Give an unlimited amount to charity.
Contribute to a loved one's 529 education savings plan. There are some special tax rules that make this a powerful estate planning tool. For example, you can make 5 years of contributions at one time without incurring a federal gift tax.
Pay any amount toward another person's tuition or medical bills. You'll pay tuition directly to an institution on behalf of a loved one. (This payment doesn't include books, supplies, or room and board, only tuition.) Qualified medical payments must be made directly to the provider.
Give any amount to your spouse.

Converting traditional retirement plan assets to a Roth IRA. When it comes to estate planning, the primary benefit of a Roth conversion is that you pay taxes now so your beneficiaries won't have to pay them when they inherit your IRA.
Establishing a trust. Certain trusts can help lower the amount of your estate subject to taxes. As I said earlier, trusts aren't ONLY for the wealthy, but when it comes to tax planning, they're close to a must-have for those with substantial assets.
States with state estate taxes and/or inheritance taxes
Ensure your wishes are followed if you can't manage your own affairs
One of the most sensitive topics I discuss with my clients is what will happen if they become incapacitated—temporarily or permanently. It's important to have a plan in place so your financial and medical wishes are carried out. Clear, honest conversations now are important for everyone and help provide peace of mind. Consider having a few directives in place, including a living will, a power of attorney, and a health care proxy.
Estate plans are about more than just money. They give you the power to control what happens when you're gone so you can live the life you want today.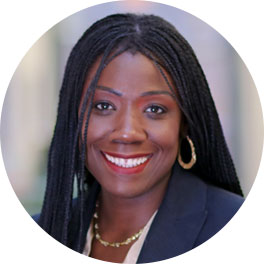 Kahlilah Dowe
Kahlilah Dowe is a Certified Financial Planner™ (CFP®) professional with Vanguard Personal Advisor Services®. She's provided Vanguard clients with investment support and personalized service since 2005, and financial planning and advice since 2010. Kahlilah earned a B.S. from York College.
When she's not helping her clients reach their financial goals, Kahlilah enjoys taking road trips with her family and experimenting with new vegetarian recipes.
Ready to plan for the future?
Working with Vanguard Personal Advisor Services gives you anytime access to advisors who are fiduciaries—always acting in your best interests. You'll also receive a financial plan that's focused on your goals, and helps to withstand market volatility and economic shifts.
Learn about advice
Your goals are our goals.
We're by your side to help you feel confident about your future.
All investing is subject to risk, including the possible loss of the money you invest.
When taking withdrawals from an IRA before age 59½, you may have to pay ordinary income tax plus a 10% federal penalty tax.
This information is intended to be educational and is not tailored to the investment needs of any specific investor.
Vanguard does not provide legal or tax advice. This information is general and educational in nature and should not be considered legal or tax advice. Tax laws and regulations are complex and subject to change, which can materially impact investment results. Vanguard cannot guarantee that this information is accurate, complete, or timely. Vanguard makes no warranties with regard to such information or results obtained by its use, and disclaims any liability arising out of your use of, or any tax positions taken in reliance on, such information. We recommend that you consult a tax or financial advisor about your individual situation.
Advice services are provided by Vanguard Advisers, Inc., a registered investment advisor, or by Vanguard National Trust Company, a federally chartered, limited-purpose trust company.
The services provided to clients who elect to receive ongoing advice will vary based upon the amount of assets in a portfolio. Please review Form CRS and the Vanguard Personal Advisor Services Brochure Open PDF document in a new window for important details about the service, including its asset-based service levels and fee breakpoints.
Research our investment professionals with FINRA's BrokerCheck. Open page in a new window
Certified Financial Planner Board of Standards Inc. owns the certification marks CFP® and Certified Financial Planner™ in the U.S., which it awards to individuals who successfully complete CFP Board's initial and ongoing certification requirements.