I recommend that my clients in their 40s and 50s start thinking about health care costs to make sure they're prepared when it's time to retire. A model we developed in partnership with Mercer Health shows your average health care costs, even with Medicare, could surpass $5,000 per year.** Costs vary and depend on many factors, but it's possible to estimate what they might be so you can plan ahead.
So what's really holding back prepared retirees from enjoying the fruits of their labor?
According to a recent survey, 1 in 3 retirees say their health expenses are higher than they expected.* That's why having a custom estimate built into your financial plan can be a game changer. Whether it's higher or lower than you expect, knowing what your medical expenses might cost gives you a sense of control.
So what comprises the model that drives our personalized estimates? Our research shows these are the 6 most important factors impacting health care costs.
I suggest my clients get familiar with Medicare plan options well before retirement. Even clients in their 30s can benefit from a foundational knowledge of the system. If you start learning the basics now, you'll feel more confident choosing a plan that fits your needs when you enroll at age 65.
The first requirement is to decide between Original Medicare and Medicare Advantage. Original Medicare is a membership plan paid up front each month. For some of these plans, after you pay a deductible, you don't pay when you go to the doctor. But you might need to add Medigap, prescription drug, dental, or vision coverage.
Medicare Advantage can be a more bundled alternative to Original Medicare. It includes medical and prescription drug coverage, and in some cases also offers dental, hearing, and vision coverage. Your up-front cost is lower, but since it's a pay-as-you-go option, you'll incur costs as you need care.
When considering your options, think about whether you'd prefer to pay higher premiums (and/or additional premiums for extra policies) to increase the predictability of your out-of-pocket costs. The variety of plan options can be difficult to sift through, and coverage varies. Our advisors are here to help you figure out which plan is best for your individual needs.
You can also use our Medicare Match tool, which is available to Vanguard Personal Advisor clients, if you'd like help narrowing your choices based on your needs.
"Our advisors are here to help you figure out which plan is best for your individual needs."
The Medicare plan you need and what you'll pay for it depends on your health status when you retire. For example, if you smoke or have 2 or more chronic health conditions, you should plan to spend more of your retirement income on health care. However, if you don't have chronic conditions, you've never smoked, and you don't visit the doctor often, you can probably plan to spend less than average.
Keep in mind that a higher health risk can also increase the likelihood you'll need long-term care. Almost half of retirees don't end up needing it, but if you do, it can be expensive. You may want to build long-term care into your plan as a separate cost.
If one of your goals is to retire early, a Medicare advisor can work with you to make sure you're saving enough to cover health care costs during the gap years before you're eligible for Medicare.
One option for coverage is to stay on your spouse's employer-sponsored plan, if your spouse is still working. You could also remain on your employer's plan through COBRA. Some employers may even offer continuing coverage as part of your retirement package.
If an employer-sponsored plan isn't a possibility, you can buy insurance through the federal marketplace or purchase private insurance. All these options have their own requirements and their costs vary, so you'll want to do your research to see what makes sense for you.
Big benefits of a health savings account
"I encourage clients who are concerned about future health costs to start putting money in an HSA."
Health care costs might be higher than you expect, so a health savings account (HSA) can help bridge any gaps in coverage. An HSA is a flexible, tax-efficient way to pay for current health care expenses and save for future ones. Pair a high-deductible health insurance plan with an HSA to save for health care costs, take advantage of lower premiums, and reduce your taxable income.
I encourage clients who are concerned about future health costs to start putting money in an HSA. When you reach a certain amount—what I call the "tipping point"—you start reaping the benefits of being able to take care of current health care costs and also continue to grow your money in those accounts, even after you retire.
Ready to get a custom estimate of your health care costs in retirement?
Our advisors can help.
Your health care costs in retirement can seem even higher if you've had coverage through an employer-sponsored plan. In fact, Vanguard's research shows that premiums for Medicare could be more than double the employer-sponsored cost.**
You qualify for Medicare at age 65 even if you're still working or have retiree health benefits through your employer or other coverage through a spouse's employer-sponsored plan. Whether you decide to enroll as soon as you become eligible depends on your specific situation.
Where you live in retirement also affects your health care costs. Coverage for Original Medicare costs the same everywhere, which gives you some flexibility. If you travel or move to a different county, you can see any doctor that accepts Medicare. But other expenses such as prescription coverage and supplemental plans can vary by state and region.
Medicare Advantage is a local, private insurance option driven by your zip code, so you could be limited to the plan's provider network. When choosing a Medicare Advantage plan, you'll have to verify your doctor is part of the network in your county. If you plan on living in two places, or move from one county to the next, you might have to change your plan.
If you plan to keep working after enrolling in Medicare or if you've saved up quite a bit for retirement, your income could mean the government won't subsidize as much of your costs. The income levels you'll need to hit to trigger surcharges are high, however—$88,000 for an individual or $176,000 for a married couple.
*Employee Benefit Research Institute, 2021 Retirement Confidence Survey.
**Vanguard and Mercer Health & Benefits, 2021. Planning for Health Care Costs in Retirement.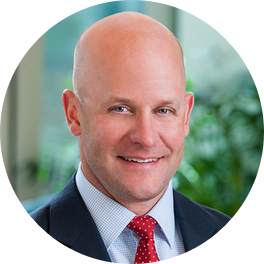 Stephen Schwanke
Steve is a financial advisor with Vanguard and a Certified Financial Planner™ (CFP®) professional with over 23 years of experience in the financial services and insurance industries. He is a graduate of the Virginia Military Institute. Residing in Downingtown, Pennsylvania, he loves spending time outdoors with his wife and 3 boys, hiking the Adirondack high peaks, and coaching lacrosse.
Want an investment partner to talk you through Medicare options and other health care costs in retirement?
Working with Vanguard Personal Advisor Services® gives you access to advisors who are fiduciaries—always acting in your best interests. They'll create a personalized financial plan and help you budget for health care costs.
Learn about advice
Your goals are our goals
We're by your side to help you feel confident about your future.
All investing is subject to risk, including the possible loss of the money you invest.
Vanguard does not provide legal or tax advice. This information is general and educational in nature and should not be considered legal or tax advice. Tax laws and regulations are complex and subject to change, which can materially impact investment results. Vanguard cannot guarantee that this information is accurate, complete, or timely. Vanguard makes no warranties with regard to such information or results obtained by its use and disclaims any liability arising out of your use of, or any tax positions taken in reliance on, such information. We recommend that you consult a tax or financial advisor about your individual situation.
Vanguard Personal Advisor Services is provided by Vanguard Advisers, Inc. ("VAI"), a registered investment advisor, or by Vanguard National Trust Company, a federally chartered, limited-purpose trust company.
The services provided to clients who elect to receive ongoing advice will vary based upon the amount of assets in a portfolio. Please review Form CRS and the Vanguard Personal Advisor Services Brochure Open PDF document in a new window for important details about the service, including its asset-based service levels and fee breakpoints.
VAI is a subsidiary of The Vanguard Group, Inc., and an affiliate of Vanguard Marketing Corporation. Neither VAI nor its affiliates guarantee profits or protection from losses.
Research our investment professionals with FINRA's BrokerCheck Open page in a new window.
Certified Financial Planner Board of Standards Inc. owns the certification marks CFP® and Certified Financial Planner™ in the U.S., which it awards to individuals who successfully complete CFP Board's initial and ongoing certification requirements.