I saw this come to life in a couple different ways during the COVID-19 pandemic. As the real estate market skyrocketed, some homeowners bypassed inspections and experienced buyer's remorse. And in the rising interest rate environment, some investors reconsidered their fixed income investments over concerns bonds couldn't keep up with inflation.
Economic factors can make the future feel uncertain, but when it comes to investing, it's important to stick with your long-term investment strategy. As an advisor, one of the ways I help my clients stay the course is by reminding them of the role long-term bonds play in a well-balanced, diversified portfolio.
4 strategies for your bond portfolio
Here are 4 strategies that can help you balance inflation concerns and stay aligned with your long-term goals.
Understand how bonds fit into your strategy
Since bonds are just one piece of your investment pie, it's important to make sure they're appropriately balanced against your stock allocation.
Generally, bond prices tend to move in the opposite direction of stock prices. When stock prices are down, bond prices are up, and vice versa. Here's what that means for your portfolio.
When stock prices are down, bonds can offer shock absorption
From my observation, when markets are unsteady, investors sometimes move from stocks to bonds. And when market confidence is high, they move back from bonds to stocks. This causes the known inverse relationship between stock and bond prices, but it is not a firm rule.
Diversification is important and can help absorb shock when the market is volatile. Bonds balance your portfolio's risk and make it easier to recover your losses.
When bonds prices are down, stocks can help you keep up with inflation
You're not alone if you're inclined to sell bonds and buy stocks when bond prices drop. But before you take any action on your portfolio losses, remember the importance of your target asset mix.
When the stock market is performing really well, your portfolio may end up overweighted in stocks, exposing you to more risk than you're comfortable with. When this happens, we recommend increasing your bond exposure to get you back to your target allocation.
Check out these portfolio allocation models Open page in a new window to help you decide how much to invest in bonds and stocks.
Spread out your asset risk
One of my jobs as an advisor is to look at my clients' portfolio gaps and fill them in with recommendations that help manage risk. This is why I often encourage my clients to diversify within asset classes.
For example, what if you had a diversified stock portfolio but only individual bonds for fixed income assets? In this scenario, I'd recommend you supplement your portfolio with bond funds that are diversified among different qualities and maturities, hedge against inflation and currency risk, and factor in tax circumstances.
For investors who have little time or interest in picking out bond funds, broad-based funds are a simple way to get broad exposure to the U.S. and international bond markets, respectively.
Check out our bond funds here Open page in a new window.
"One of my jobs as an advisor is to look at my clients' portfolio gaps and fill them in with recommendations that help manage risk."
Focus on what you can control
It's natural for economic factors to test your risk tolerance, but market volatility shouldn't drive major changes to your investing plan. When my clients express concern about these things, I encourage them to take a step back, look at the bigger picture, and consider why they're investing in the first place.
You can't control the economy. But you can control your asset allocation, stick to Vanguard's Principles for Investing Success Open PDF document in a new window, and create a well-balanced, diversified plan that's built to weather whatever market conditions come your way.
When the markets get rough, I take time to revisit my clients' goals and make sure their portfolios remain appropriately balanced for their age, time horizon, and risk tolerance.
Dos
Create clear goals and choose a well-balanced mix of assets that aligns with your risk/return profile.
Maintain a long-term, disciplined investing approach.
Keep your costs low by investing in funds with low expense ratios and rebalancing your portfolio in a tax-efficient way.
Don'ts
Focus on investment fads or individual stocks or bonds, especially ones that are trending.
Follow market-timing advice or try to make quick money in a short amount of time.
Rebalance too frequently—you could end up with more capital gains taxes than you bargained for.
82% of our low-cost bond funds performed better than their peer-group averages over the past 10 years.*
Steer clear of the rearview mirror
When you're driving down the highway, it's important to keep your eyes on the road ahead.
The same idea applies to investing. Too often, we hear market timing success stories—maybe a friend or family member bought a hot stock and reaped the benefits. These stories can leave us feeling like we missed out on the next big investment fad.
But we rarely hear about the investment misses. Maybe that same friend put all their money into a few stocks and didn't have a well-balanced portfolio—one that had bond funds to offer shock absorption when the stock market fell.
Instead of reacting to market volatility, news, and trends, it's important to keep your long-term goals in sight and ensure your portfolio stays aligned with your target asset mix.
During the 2020 pandemic when stocks were down and bond values were up, several of my clients' portfolios became overweighted in bonds. For example, portfolios that should've been 50% stocks and 50% bonds looked more like 45% stocks and 55% bonds. To ensure these clients remained aligned with their target mix and risk/return profiles, we rebalanced their portfolios. This involved selling bonds while they were up and buying more stocks while they were low.
It can seem counterintuitive to sell top-performing investments in favor of underperforming ones. However, investors who don't take advantage of these rebalancing opportunities may miss out on subsequent equity returns and hinder their progress toward their goals.
Not sure if you need to rebalance your portfolio?
Vanguard's Portfolio Watch tool can help you determine if you've drifted from your target mix. You can access it directly from your accounts page under the My Accounts dropdown.
You can also include non-Vanguard funds to get a more holistic view of your accounts and determine whether you need to make any adjustments. To do this, select Add accounts that are updated automatically at the bottom of your Balances & holdings page.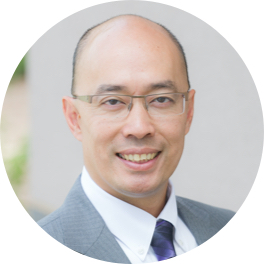 Edmund Oliveros
Edmund is a Senior Financial Advisor at Vanguard and a Certified Financial Planner™ (CFP®) professional. In his personal time, he enjoys hiking and biking, traveling with his family, and volunteering his time in support of veterans and transitioning service members.
Want an investment partner to coach you through tough investment decisions?
Working with Vanguard Personal Advisor Services® gives you anytime access to advisors who are fiduciaries—always acting in your best interests. We stress test your portfolio against thousands of possible market scenarios and offer one-on-one support whenever you need to discuss life changes or just talk things through.
Learn about advice
Your goals are our goals
We're by your side to help you feel confident about your future.
*For the 10-year period ended March 31, 2021, 67 of 82 Vanguard bond funds outperformed their Lipper peer-group averages. Results will vary for other time periods. Only mutual funds and ETFs (exchange-traded funds) with a minimum 10-year history were included in the comparison. Source: Lipper, a Thomson Reuters Company. The competitive performance data shown represent past performance, which is not a guarantee of future results. View fund performance Open page in a new window
All investing is subject to risk, including possible loss of principal. Be aware that fluctuations in the financial markets and other factors may cause declines in the value of your account. There is no guarantee that any particular asset allocation or mix of funds will meet your investment objectives or provide you with a given level of income.
Diversification does not ensure a profit or protect against a loss.
Bond funds are subject to interest rate risk, which is the chance bond prices overall will decline because of rising interest rates, and credit risk, which is the chance a bond issuer will fail to pay interest and principal in a timely manner or that negative perceptions of the issuer's ability to make such payments will cause the price of that bond to decline.
This information is intended to be educational and is not tailored to the investment needs of any specific investor.
Vanguard does not provide legal or tax advice. This information is general and educational in nature and should not be considered legal or tax advice. Tax laws and regulations are complex and subject to change, which can materially impact investment results. Vanguard cannot guarantee that this information is accurate, complete, or timely. Vanguard makes no warranties with regard to such information or results obtained by its use, and disclaims any liability arising out of your use of, or any tax positions taken in reliance on, such information. We recommend that you consult a tax or financial advisor about your individual situation.
Advice services are provided by Vanguard Advisers, Inc. ("VAI"), a registered investment advisor, or by Vanguard National Trust Company, a federally chartered, limited-purpose trust company. VAI is a subsidiary of The Vanguard Group, Inc. ("VGI"), and an affiliate of Vanguard Marketing Corporation ("VMC"). Neither VGI, VAI, nor its affiliates guarantee profits or protection from losses.
The services provided to clients who elect to receive ongoing advice will vary based upon the amount of assets in a portfolio. Please review Form CRS and the Vanguard Personal Advisor Services Brochure Open PDF document in a new window for important details about the service, including its asset-based service levels and fee breakpoints.
Research our investment professionals with FINRA's BrokerCheck Open page in a new window.
Certified Financial Planner Board of Standards Inc. owns the certification marks CFP® and Certified Financial Planner™ in the U.S., which it awards to individuals who successfully complete CFP Board's initial and ongoing certification requirements.