Saving enough for retirement can be challenging, but making your savings last can be even more complicated.
It can be overwhelming to save for decades and then in retirement try to figure out how much you can take out of your portfolio. That's why my clients have a strategy for withdrawals just like they had for saving.
There's a lot that goes into a strategy, including how much you'll withdraw, where the withdrawals will come from, and when you'll make them. For now I'll focus on the first part: how much you'll withdraw each year.
You want a strategy that accomplishes 2 often-competing goals: 1) giving you enough money to support your desired lifestyle right now and 2) ensuring there's plenty left for the future (including any money you plan to leave to heirs).
That's a tall order, and there are some "rules of thumb" that attempt to balance the goals in a way that's easy to implement. Unfortunately, they have some drawbacks.
Traditional withdrawal strategies: Pros and cons
The "dollar plus inflation" strategy calls for you to spend a percentage of your portfolio the first year and then make adjustments to that dollar amount based on inflation in future years. Here are a few things to note about this strategy:
The "4% rule" is a popular example of dollar plus inflation. If your expenses won't change much throughout retirement, it ensures you'll be able to cover your yearly costs for as long as the portfolio lasts (goal 1).
It ignores market conditions, so it could result in either running out of money (in down markets) or spending much less than you could actually afford (in up markets).
It could be best for someone whose main priority is maintaining a steady level of spending from year to year.
The "percentage of portfolio" strategy calls for you to spend a fixed percentage of your portfolio every year. Here are some things to know about this strategy:
It gives you complete confidence of achieving goal 2—not running out of money.
It results in yearly spending amounts that are completely market-driven and could fall below what you actually need to live.
It could be best for someone whose main concern is ensuring they don't deplete their portfolio and who can adapt their budget to a wide variety of spending levels.
It can be overwhelming to save for decades and then in retirement try to figure out how much you can take out of your portfolio. That's why my clients have a strategy for withdrawals just like they had for saving.
How to choose an initial withdrawal amount
Although 4% is a popular guideline, research has established it as "safe" only for specific time frames and allocations. And safe means different things to different people. For you, 4% could be too much—or too little. Here are the factors we consider when choosing a withdrawal rate for an individual client:
4 levers affecting withdrawal rates
Dynamic spending strategy
Understanding that many people aren't able to prioritize either level spending or portfolio preservation, we identified a need for a retirement strategy that achieves both important goals—covering current spending while aiming to preserve enough money for the future.
Dynamic spending, which is a hybrid of the dollar plus inflation and percentage of portfolio rules, does just that. It builds on people's natural tendency to spend more when markets are up and less when markets are down—but moderates the wild swings you get when giving market performance free rein over your spending.
In other words, it achieves a happy medium. Your spending is more flexible than with a dollar plus inflation approach, but also more stable than with the percentage of portfolio approach. It's also completely customizable, so in addition to deciding how much to withdraw the first year, you decide how much you're willing (and able) to raise or lower your spending in response to market movements.
Here's how it works:
Start with last year's withdrawal amount.
Look at your portfolio's returns for the year, and adjust next year's spending up or down as needed. If your rate of return was greater than your ceiling, increase your spending only by the amount of the ceiling. If it was lower than your floor, reduce your spending only by the amount of the floor.
Repeat each year.
This framework allows you to decide how much you want to benefit from good markets by spending a portion of those gains. And it enables you to weather bad markets without substantially reducing your spending.
Best of all, dynamic spending can mean greater spending levels throughout retirement. For example, our historical research showed that a retiree with a portfolio that was 50% stocks/50% bonds could withdraw 4.3% a year with 85% confidence that the portfolio would last through 35 years of retirement. But by incorporating dynamic spending, with a 1.5% floor/5% ceiling, that retiree could withdraw 5% a year and have the same level of confidence.
Setting your floor and ceiling as well as deciding on the right initial withdrawal rate means you'll need to make several decisions and maintain an additional level of oversight to use dynamic spending. And since all of these factors depend on your personal time horizon, allocation, retirement income sources, and priorities, there's no "right answer" for everyone.
If you're interested in incorporating dynamic spending into your withdrawal strategy, you can learn more in our white paper. Or set up a consultation with an advisor from Vanguard Personal Advisor Services®.
Learn more about dynamic spending Open PDF document in a new window
*This is an example of a possible ceiling/floor combination. When you use dynamic spending, you set your ceiling and floor based on your individual situation. An advisor can help you choose the combination that makes sense for you.
Source: Vanguard, From Assets to Income: A Goals-Based Approach to Retirement Spending (Colleen M. Jaconetti, CPA, CFP®, et al., April 2020).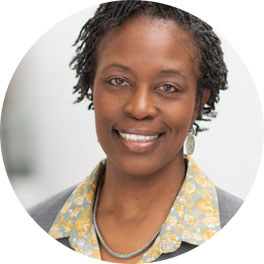 Vernell Peter-Koyi
Vernell Peter-Koyi is a Certified Financial Planner™ (CFP®) with Vanguard Personal Advisor Services®. She also has Chartered Financial Consultant (ChFC) and Retirement Income Certified Professional (RICP) designations. She's provided Vanguard clients with financial planning and advice since 2018.
Vernell earned a BA in accounting from Shippensburg University and an MBA in economics and finance from West Chester University.
When she isn't helping clients plan their retirement, Vernell spends time with her husband and 3 teenage children. She also enjoys reading as many books as she can and watching spy movies.
Ready to build your withdrawal strategy?
Working with Vanguard Personal Advisor Services gives you anytime access to advisors who are fiduciaries—always acting in your best interests. We'll work with you to build a flexible retirement withdrawal strategy to help you maintain a stable income while also preserving your portfolio.
Learn about advice
Your goals are our goals.
We're by your side to help you feel confident about your future.
All investing is subject to risk, including the possible loss of the money you invest.
When taking withdrawals from an IRA before age 59½, you may have to pay ordinary income tax plus a 10% federal penalty tax.
We recommend that you consult a tax or financial advisor about your individual situation.
Advice services are provided by Vanguard Advisers, Inc., a registered investment advisor, or by Vanguard National Trust Company, a federally chartered, limited-purpose trust company.
The services provided to clients who elect to receive ongoing advice will vary based upon the amount of assets in a portfolio. Please review Form CRS and the Vanguard Personal Advisor Services Brochure Open PDF document in a new window for important details about the service, including its asset-based service levels and fee breakpoints.
Research our investment professionals with FINRA's BrokerCheck. Open page in a new window
Certified Financial Planner Board of Standards Inc. owns the certification marks CFP® and Certified Financial Planner™ in the U.S., which it awards to individuals who successfully complete CFP Board's initial and ongoing certification requirements.