Have you ever experienced extreme emotions during times of market volatility? Despite being focused on the long term, you may still have experienced feelings of anxiety or euphoria.
Why? It's out of your control.
Because emotions can steer your focus toward what's happening in the moment and away from your overall long-term goals, some might encourage you to remove emotion from investing. But that's not really possible—and not really necessary. What IS important is that you're aware of emotional triggers and how they can affect you.
Our minds and bodies influence our decisions
Our minds and bodies influence our decisions in many ways. Behavioral economists, psychologists, neuroscientists, and others are doing research every day to learn more about how we make decisions, including important financial decisions.
Neuroeconomics, an outgrowth of behavioral economics, is exploring how different regions of the brain impact our decisions. Using MRIs, researchers discovered that 2 regions of the brain influence our decisions the most. Our rational, logical decisions are controlled by the prefrontal cortex. And when we're making decisions based more on emotion, the limbic regions of the brain are in control.
Researchers have found that our hormones also play a part in decision-making. When we're faced with making a choice, the stress hormones cortisol and adrenaline are released.
While this research is fascinating, knowing that our unconscious thoughts and hormones are influencing our decisions can help us to pause, take a deep breath, and move forward with the decision that's right for us.
Emotion and investing go hand in hand. After all, emotions often motivate us to save. Love for our families, a need for security, and our hopes for the future are all powerful drivers when it comes to investing.
Flipping the script
While neuroeconomists continue their research, we can do some relatively simple things to help our emotions work for us and not against us. It has to do with how we talk to ourselves about money.
We all know that saving for our financial goals is important. But when faced with a really tempting purchase that might sideline our savings—a tropical vacation or a more expensive home, for example—our emotions may take over and push us to make an unplanned, emotional purchase. Feelings of guilt may ensue, as you tell yourself you "can't" make the purchase, and you're left feeling deflated.
But what if instead of saying I "can't" take that vacation, you said I "won't" take that vacation yet because I'm saving for my daughter's college education, and that's the most important thing right now. Doing so reminds you that you're in control—you've set your own financial priorities. You've flipped the script.
Or maybe you're retired and hesitant to spend your savings or worried about having a health emergency or being able to leave an inheritance to your children. Flipping the script works in cases like these too. If I sense hesitancy on the part of my clients to spend from their savings, we dig into why that's the case. Once we've identified the cause, we can come up with a new script—"I have a plan for health care, so I know it's covered" or "I'm still responsible with my money, but now it's reflected in different ways."
Read more about the differences between "I can't" vs. "I won't"
Emotion and investing go hand in hand.
After all, emotions often motivate us to save. Love for our families, a need for security, and our hopes for the future are all powerful drivers when it comes to investing.
Acknowledging that our emotions are part of what drives our behavior and comfort level with investing is valuable. To anticipate how emotions might affect your investing behavior, ask yourself questions like these:
Do I hate losing even more than I like winning?
Do I make assumptions about the likelihood of something happening based on whether it's happened to me before?
Am I more comfortable keeping things the same rather than making changes?
Do I tend to respond to uncertainty by forcing an outcome just so the uncertainty disappears (for example, selling when an investment has lost money and locking in a loss)?
Ready to talk about a plan that works
with

your emotions and not against them?

Our advisors are here for you.
I could have lost everything!
The field of behavioral psychology also has many interesting insights for investors. One that most of us can relate to is a near-miss experience.
It makes sense that people who are spared from devastating events—a near miss—such as a natural disaster or a market crash, would take steps to mitigate their future risk. For example, if someone survives a wildfire, they might clear all the brush from around their home and invest in other fire mitigation measures. Or maybe someone who doesn't have emergency savings survives a terrible economic downturn when others are losing their jobs. That person might prepare for a future potential job loss by creating an emergency fund in case they're not so lucky next time.
But, according to psychological research, that isn't always what happens. Instead, these near-miss experiences can lead to feelings of complacency and invincibility.
Why? Some people believe they avoided a devastating situation because of resilience, which may lead them to future risky behavior. They have a false sense of security, do nothing to prepare for future occurrences, and expose themselves to future risk.
Does it make sense? Probably not, but with human beings, logic doesn't always prevail.
Let's work
with

your emotions

Learning more about what influences our behavior is a great first step in recognizing when we're making decisions based primarily on our emotions rather than on logic and reason.

But we shouldn't discount our emotions—they play an important role in investing. After all, they're often what drive us to invest in the first place: love for our family, hopes for their future and ours, and pride in our accomplishments. Harnessing those emotional drivers can help motivate us to save.

As an advisor, I respect how important my clients' emotions are. In fact, Vanguard research has shown that about 40% of the value an advisor provides their clients is emotional—feelings of confidence with their portfolios, satisfaction with their choices, and excitement for the future.* We want to work with their emotions, not against them.

So as the experts continue their research on how emotions impact our decision-making, I'll continue to put my clients' emotions to work for them—to help them reach their investing goals.

*The value of advice: Assessing the role of emotions. Vanguard, 2020.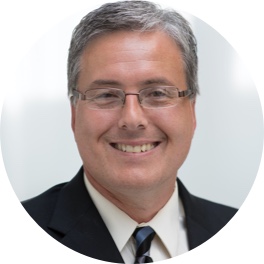 Chuck Riley
Chuck is a Certified Financial Planner™ (CFP®) professional and Certified Trust and Financial Advisor (CTFA) with Vanguard Personal Advisor Services. He joined Vanguard in 1998 and has been providing financial advice to clients since 2008.
Chuck earned a B.A. from the University of Washington. He's also pursuing an M.B.A. with a concentration in behavioral finance/financial psychology through Creighton University, with expected completion in 2022.
When Chuck's not helping his clients or studying, he enjoys spending time with his wife and family. He's also a hiker/mountaineer, with summits of Mount Whitney (California) and Mount Hood (Oregon), among others.
Ready to put your new insights about emotions and investing to work for you?
Working with Vanguard Personal Advisor Services® gives you anytime access to advisors who are fiduciaries—always acting in your best interests. We'll work with you to answer your questions and create a plan to help you meet your long-term goals.
Learn about advice
Your goals are our goals
We're by your side to help you feel confident about your future.
All investing is subject to risk, including the possible loss of the money you invest.
This information is intended to be educational and is not tailored to the investment needs of any specific investor.
Advice services are provided by Vanguard Advisers, Inc., a registered investment advisor, or by Vanguard National Trust Company, a federally chartered, limited-purpose trust company.
The services provided to clients who elect to receive ongoing advice will vary based upon the amount of assets in a portfolio. Please review Form CRS and the Vanguard Personal Advisor Services Brochure Open PDF document in a new window for important details about the service, including its asset-based service levels and fee breakpoints.
Research our investment professionals with FINRA's BrokerCheck. Open page in a new window
Certified Financial Planner Board of Standards Inc. owns the certification marks CFP® and Certified Financial Planner™ in the U.S., which it awards to individuals who successfully complete CFP Board's initial and ongoing certification requirements.