Advice for real life
Vanguard Personal Advisor Services combines the best of high-touch and high-tech to help you with your real-life investing needs.
Why partner with a Vanguard advisor
Whether your investing strategies include retirement planning, tax and estate planning, or gifting and transitioning wealth, a Vanguard advisor can help you with your personal financial planning and ongoing investment advice. We've been offering investment advisory services to high-net-worth clients for nearly two decades.
---
Vanguard advisors put your interests first
Your partnership with a Vanguard advisor is at the heart of our service. You'll receive a high level of personal attention from a senior financial advisor, who's a Certified Financial Planner™ professional. Our advisors are salaried, so they don't receive incentives for their recommendations or for selling you investment products or services. Your advisor begins by spending whatever time is necessary getting to know you and listening to your needs.
Get a customized portfolio and plan
Based on your discussions, your advisor will determine an appropriate asset allocation, which generally includes a suitable mix of broadly diversified stock and bond funds, and cash investments. Then your advisor will recommend your sub-asset allocation mix, or how your assets are divided within your stock and bond allocations. This may include allocating your assets in growth and value stock funds and taxable or tax-exempt bond funds with varying maturities, in both domestic and international markets.
After developing an asset allocation strategy based on your unique financial situation, your advisor will partner with you to create a custom-tailored financial plan.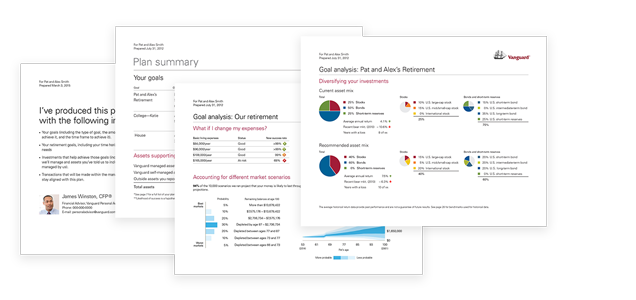 When your asset allocation and sub-asset allocation are finalized, your advisor will analyze your portfolio. Before deciding whether to sell any your current assets, your advisor will carefully consider your personal investment preferences, your past diversification strategy, and the tax implications of rebalancing your portfolio to the recommended targets. Then your advisor will work closely with you to develop the most tax-efficient way to maximize your long-term performance. Your advisor will: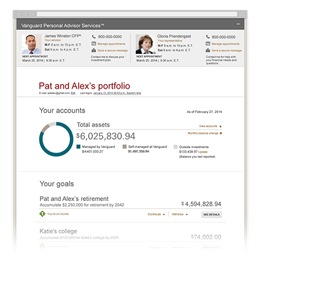 Put your plan into action and manage your portfolio, allowing you to be as involved as you want to be.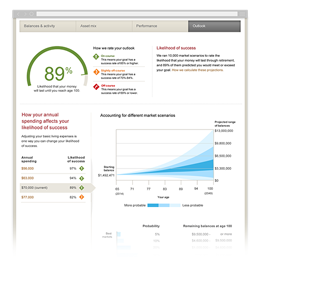 Work with you to keep track of your plan's progress.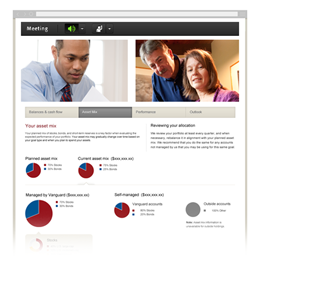 Rebalance your portfolio as necessary and partner with you to revise your plan when important changes in your life occur.
---
See how an advisor adds value
Our research shows that an advisor who provides the below investment strategies and guidance can add meaningful value compared to the average investor experience.* For example, your advisor will:

Serve as your investing coach
When the market rises or falls, it's easy to be tempted to abandon a well-thought-out plan. An advisor acts as an investing coach to help an investor stick to the plan.

Build your portfolio with low-cost funds
Our research suggests that lower-cost investments have tended to outperform higher-cost alternatives. That's why an advisor will build a portfolio with low-cost funds.

Minimize your taxes
An advisor can help minimize an investor's tax burden in two ways: first, by efficiently allocating assets between taxable and tax-advantaged accounts; and second, when the time comes to withdraw money by developing a tax-smart distribution plan.
Vanguard advisors follow these practices
Vanguard Personal Advisor Services is designed to leverage these investing principles. Our financial advisors are trained to follow these practices to help you reach your financial goals.
---
See how Vanguard Personal Advisor Services works
Take a few minutes to watch this video and see to how our new advice service can help give you the best chance for investment success.
---
Enjoy a full range of financial planning services
Your advisor can provide access to the appropriate resources and will partner with you and any professionals like your attorney and accountant, to help you develop financial, income tax, and estate planning strategies.
Financial planning
Asset-growth strategies.
College saving guidance, including 529 plans.
Life insurance needs.
Distribution options in retirement.
Income tax planning
Survey of the tax impact from the sale of portfolio assets.
Tax-loss harvesting.
Roth conversion evaluation.
Alternative minimum tax review.
Stock option planning.
Net unrealized appreciation analysis.
Social Security education and strategies.
Long-term care needs and options.
Estate planning
Estate plan analysis and education.
Estate tax reduction strategies.
Gifting strategies.
Consultations with your attorney.
Financial education for future generations.
---
Keep more money working for you
You'll have more money working to your advantage with our low costs. You'll get the benefit of a senior financial advisor, a customized financial plan, ongoing portfolio management, and more—all for an annual cost of no more than 0.30% of your assets under management. For our low advisory fees on assets of $5 million and above, see the fee chart below. Here's an example of how fees are calculated.
Annual fee schedule
---
MANAGED ASSETS
On assets below $5 million
---
MANAGED ASSETS
On assets from $5 million to below $10 million
---
MANAGED ASSETS
On assets from $10 million to below $25 million
---
MANAGED ASSETS
On assets of $25 million and above